Ushagram Vikash Kendra
Educational Mission
Sri Gopal Chandra Chakravarty, under the inspiring influence of Ramkrishna-Vivekananda, Sri Aurobindo, Rabindra Nath Tagore and Mahatma Gandhi, purchased this piece of consolidated but fallow land in the year 1968 and dedicated himself to the mission of setting up a Tapoban type Ashramic Vidyalaya for children as well as for the socio-economic development of the people around. The said Primary School was set up under improvised sheds in the year 1974 for imparting education to the children of the locality that had no school going habits at that time. As a sequel to the partition of the country, the original residents left the place for East Pakistan and uprooted families from East Pakistan (now Bangladesh) settled in these areas. Social cohesion, harmony and solidarity were totally absent among the new settlers. Moreover, this area was a veritable den of miscreants of the district. In order to give a practical shape to Sri Aurobindo's vision of building a community with higher consciousness Gnostic society, Ushagram Trust, a non-political, non-profit-making rural voluntary organization, was formed in the year 1980 consisting of seven like-minded persons The name of the project Ushagram i.e. the village of dawn (Usha) where there will be continuous experiments for a higher consciousness for the whole community. Ushagram is a dream to be realized, an aspiration to build up a conscious community as the nucleus of a brave new world.
Formal Educational Activities:
Project-run Primary School (Vidyaniketan Sishubihar):
Elementary Education Centres (Balwadis); 12 Centre running in 10 villages:
Children's Hostel (Mira Usha):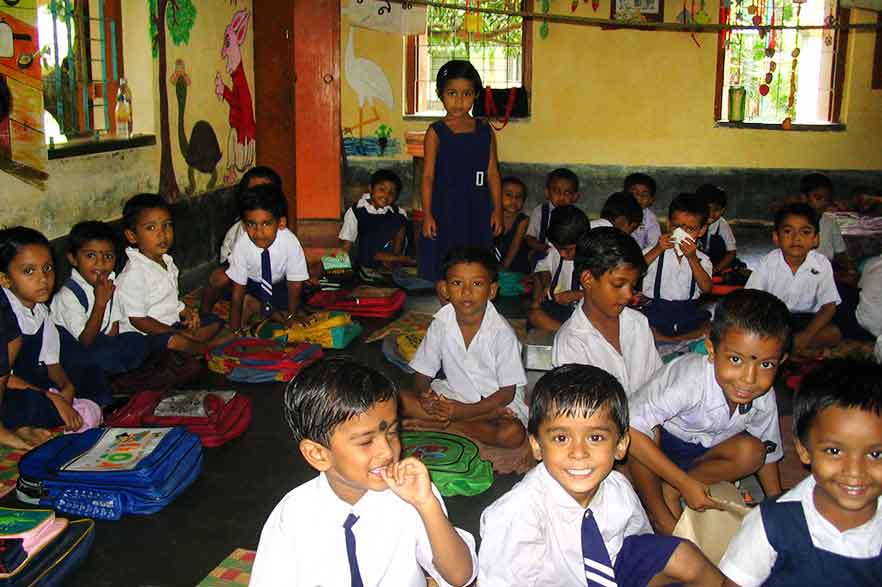 Vidyaniketan Sishubihar, an Educational institution established in 1974 is an integral part of the multifaceted rural community development program under the aegis of Ushagram Trust - a trust that has benefited and addressed the needs of the local community for nearly three decades, in its vast action area encompassing 14 villages in the Nadia district.
Catering to the target group of children in its project area, and working with a substantial number of first-generation learners in a primarily-agrarian community, Vidyaniketan Sishubihar set out to impart a minimum skill-set and knowledge-based education, sometimes referred to as functional literacy, to its students. In its present state, the school has come a long way from mere functional literacy; it has developed adequate infrastructure and stability to strive for academic excellence and infuse quality education, in complete harmony with the community and environment of the children. Educators at Vidyaniketan Sishubihar have experimented with methods of classroom teaching and learning (like group-learning practices), developed audio-visual aids for effective teaching of subjects like Science, History and Geography. The children are regularly involved in activities that help build communion with nature and are allotted classes in various performing arts and sports, apart from the regular subjects. Vidyaniketan Sishubihar also makes a conscious effort to attract more students living below the poverty line.
A happy blending of both formal and non-formal systems; Learning in harmony with nature for the spontaneous growth of memory, concentration, imagination and analytical power; Students are formed into groups and encouraged to develop fellow feeling and the spirit of cooperation. principles of a collective search for truth and solution of problems are also impressed upon the young minds. After each session, both group and individual performances are taken into consideration for determining the success rate, and the maximum number of students are awarded prizes in order to ensure maximum student response and participation. Special galleries have been set up for Science, Geography, and History etc. in separate rooms where the children can assemble and by studying the models, charts and dioramas learn and draw their own conclusions.
It has been running for the last 39 years without any financial aid from Government. This Primary standard school has two divisions:
One for the poor children from neighbouring villages and
The other for the children from families, which are relatively better off.
At present, the two wings together have nearly 800 children. The children from economically disadvantaged families, who after passing from Vidyaniketan Sishubihar and other Government-aided primary schools of this area are studying in the nearby high school, are helped in their studies by free coaching classes.Ushagram Trust is trying its best to impart education to boys and girls through activity methods both in classrooms and in outside open-air classes and makes all possible effort to prepare them to life struggle ahead and relates vocational works, music, drawing etc. with academic subjects. Health education has been made compulsory along with Yogasans, and games.
Subjects taught: Bengali, English, Mathematics, Geography, History, Life Science, Physical Science, Hindi (Vernacular), Computer
Co-curricular Activities: Music, Sports & Yoga, Drawing, Dance, Recitation, Nature Study, Health, Work Education, Kitchen gardening, floriculture.
Hours of instruction/weak: 2.30 hrs./subject/week
Hours of Homework: Depends upon the Class. 1 hour up to Standard-I, 2 hours up to Standard-II; 3-4 hours up to Standard-IV
Method of testing: - Class test /subject/month
Homework
Half-yearly Evaluation
Annual Evaluation
Method of Promotion: Instead of an individual system of promotion a novel system of collective promotion has been introduced. Students are divided into groups (not less than 4) in which the total marks that a particular group fetch is compared against the score of other groups and the best group is considered as the foremost one and rewarded. Through this system, all members of a particular group are encouraged to work in a spirit of cooperation and teamwork so that the laggards are helped by the vanguard section.
Music Class/Day: 45 minutes/class/day
Dance class: 45 minutes/class/day
Annual function & Cultural: Foundation Day celebration, Re-Union, Annual Sports, Prize activities distribution Ceremony once a year. 45 minutes duration Physical Activities /class/day, Rakhi Utsab and Briksha Ropon is also celebrating. With the financial help of the Association for the Development of Oushagram, (ADVO) France, Ushagram Trust developed three rooms (History, Geography and Science) as museums. We trust the Museum has an essential role in preserving past traditions and culture for future generations and obviously for child education. The objectives of the Museum are:
--to collect natural objects that reflect both the natural and cultural heritage of our country.
--to conserve and preserve using the best means possible items in the collection;
--to exhibit for information, materials in its collection; to serve as an informal education for local school groups, and adult education centres.
--To improve the standard of practical knowledge-based education in the classroom.
The Vidyaniketan Sishubihar is committed to providing school children as well as the general school groups, and adult education centers with high quality educational programs. Over the past thirty-five years Vidyaniketan Sishubihar has worked with Knowledge to create a wide variety of interactive programs. The goal of this project is to help students to gain tradition and reinforce material taught in the classroom.
Value formation activities like observing the birthdays of the great souls of India, studying their lives, works and messages are followed regularly. Side by side with their mental and physical development, the spiritual development of the children are also given prime importance to ensure all-around growth. In order to give free flow to their leadership qualities, all the school functions like Annual sports, Tree plantation Ceremonies, Prize Distribution, Raksha Bandhan, Nabannya etc. are held under the active management of the students themselves. Vidyaniketan Sishubihar is definitely an extraordinary institute with an extraordinary curriculum trying to reach an extraordinary goal, i.e., providing man-making education for the society. After 39 years of quality service, the Institute is on a steady march of progress from betterment to betterment in rendering service to the community with greater urge and commitment.
Vidyaniketan Sishubihar has got the affiliation of West Bengal State Council of Open Schooling (Rabindra Mukta Vidyalaya) in the year 2002 for secondary courses of education. It is to be noted that the status of Rabindra Mukta Vidyalaya is equivalent to Madhyamik courses under the West Bengal Board of Secondary Education. Affiliation was obtained for Higher Secondary courses also in the year 2005.
At present 20 teachers are engaged in conducting classes for the subjects in Secondary & Higher Secondary courses. 630 students have been admitted into Madhyamik and 652 students have been admitted in Higher Secondary courses respectively.
Our innovative techniques :
Our best effort is to reduce the students' book load. Keeping it in mind we developed three rooms – History, Geography & Science to give students first-hand information of his locality through the audiovisual way of approach.
We have introduced computer education in school. The administration is done jointly such as three teachers (other than Headmaster /Headmistress) are deputed to look after six classes each for two. They should observe actively whether classes are held punctually and regularly cleanliness of the classroom. Organizing teachers meeting every week. Nature study & Work education is our compulsory education.
Our future Plan :
We have in mind to make our school up to 10th Standard.
Vocational Training for all students in our school.
Develop one well-equipped laboratory for students.
To open a dance & drama (folk) section. (fine arts)
Organize Teachers Training and National Integration Camp.
Balwadi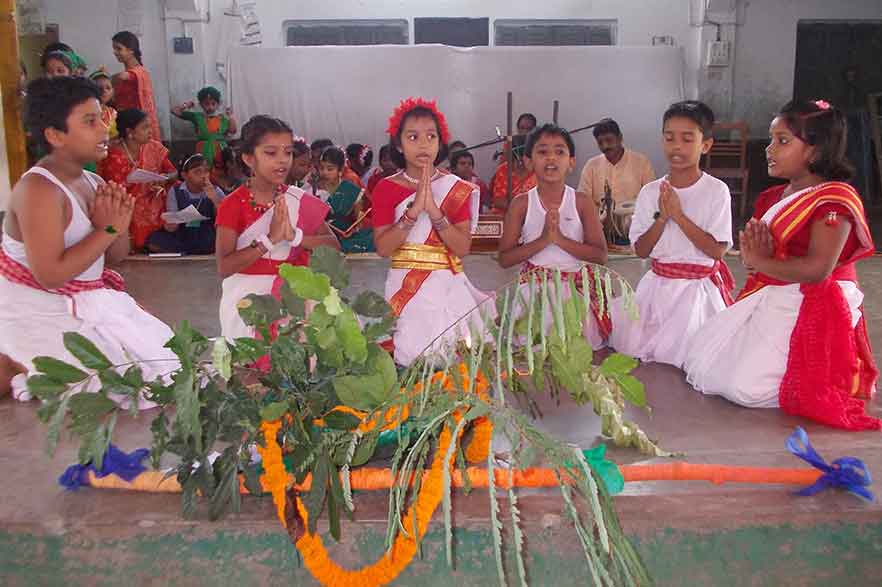 At the very outset, Ushagram Trust unanimously resolved that its thrust area would be comprehensive rural upliftment in one Gram Panchayet area, i.e., Barasat Gram Panchayet in Ranaghat Block-I of Nadia district consisting of 14 villages, and education should be the main plank. On the basis of this plan, the Trust endeavoured to set up Balwadi Centres (Pre-primary Education Centres) to begin within the 8 (eight) adjoining villages, christened Cluster-I villages. At the initial stage, UNICEF came forward to assist the programme as an innovative scheme of child education and some teaching aids and equipment were received. Thereafter, the Government of the Republic of Ireland came forward to fund the project on a co-finance basis and 8 (eight) Balwadi Centres were constructed. At present, the number of Centres has risen to 13 (twelve) in the 10 (ten) adjoining villages. Lady teachers, either from the same village or the nearby ones, have been imparting play-way education to rural children who come mostly from the families of small and marginal farmers and loomless weavers, hawkers and the like. Here they are encouraged to break the age-old curse of illiteracy and ignorance from the very beginning. School-going habits are growing in this area and with its eagerness for education and learning. The joyful environment of these Balwadi Centres attract the children and encourage them to come regularly and timely. Mothers are also becoming education conscious. It is to be noted that no major Government grants have been received in this connection beyond some meagre financial help from the Department of Relief and Welfare, Government of West Bengal, and that too has stopped before long. Till very recently, a Calcutta-based NGO, named SAHAY, had been helping us by granting the total requirements for the 12 (twelve) Balwadis, but now they have even informed us that it would no longer be possible for them to provide support. Indeed, all funds for Balwadi education have dried up and unless some funding agency interested in basic education comes forward, a very beneficial project for rural disadvantaged children will come to a grinding halt.
Objectives
Our objectives is to spread elementary education to the rural children in the age group of 3-6 years by way of play-way education by maintaining the existing facilities and infrastructure till the attainment of self-sustainability at the village level. We alweys intend to spread the message of adult literacy and health awareness among adolescent girls and mothers grow school-going habits. Introduce play way education.
Science & Technology input required in the project:
To make this elementary education project more meaningful and many-faceted, we can include in it two other subsidiary programmes, namely, (a) adult literacy programme for women and (b) health awareness programme for adolescent girls and mothers
Course software is being developed side-by-side. For the alphabet training in both English and Bengali, FLASH 5 programming tools may be used. It is necessary to build up a facility for displaying this software using a battery-operated laptop and a projection screen. Such facility will be a mobile one, i.e., it can be shifted from one village to another.
The literacy programme has also been designed in such a way that it is tagged with the health awareness programme with the following objectives :
To stop/reduce the numbers of early marriage of girl children in villages
To arrest the trend of immature unwilling pregnancy of young mothers Pre and post-natal care
Menstruation sanitation, cleanliness, sexual diseases types and prevention Reproductive child health care
Immunization necessity and cost-effective nutritious food habit, use of available green vegetables and local fruits.
Mira Usha Children Hostel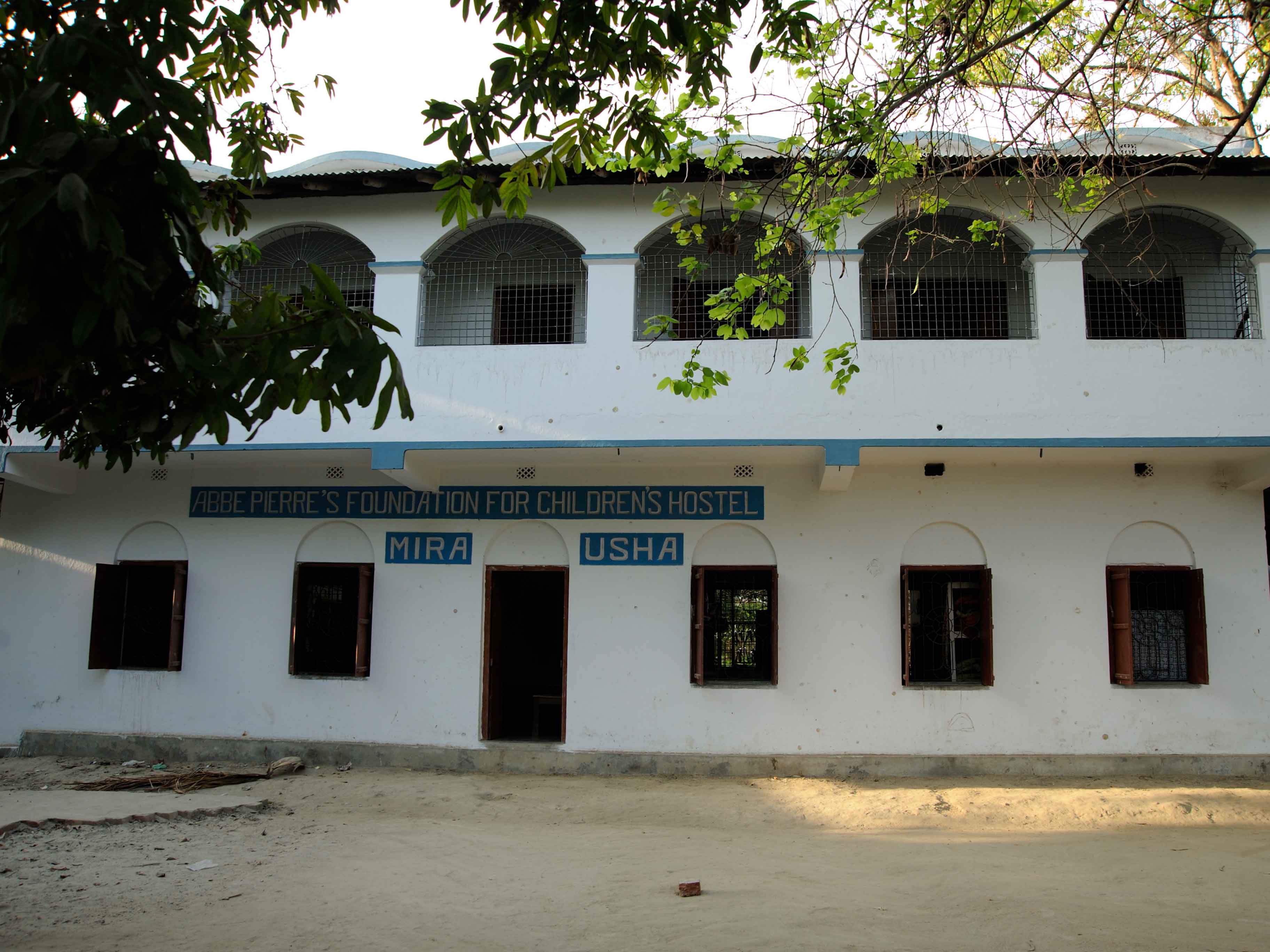 BRIEF HISTORY OF MIRA USHA CHILDREN HOSTEL
With the utmost efforts of Co-founder of Ushagram Trust, Late Gopal Chandra Chakraborty & Late Jyotirmoy Bose, combining two words Mira + Usha i.e., Mira Usha ('Mira' the name of Sri Maa of Pondicherry and the first word Usha of Ushagram) a hostel in the name of Mira Usha Children Hostel was established in the year 1996 with a capacity of accommodating 25 children in the Ushagram Yogashram campus on the very auspicious Birthday of Jyotirmoy Bose i.e., 12th July.
Initially, they planned jointly that Mira Usha Children Hostel will be the safe shelter for those, socially & economically AT-RISK children, irrespective of their caste, creed, religion or region to which they belong. During their stay in this hostel, Trust will look after all their basic needs of education including boarding, lodging, medical and health care and these children will utilize their time in selfless service, meditation, yoga, physical exercise and music along with their spiritual uplift, so that such children become professionally trained to live an honourable life and eventually become an asset to the society and the nation. Keeping these objectives and vision in mind the journey of Mira Usha Children hostel is started on the year 12th July 1996 with 5 children. Gradually the number increased day by day. At the very budding stage Smt. Tara Jauhar, Chief Functionary of Sri Aurobindo Ashram, Delhi Branch came forward to help this mission. After a few years later, when with a very limited financial resource the Trust is in a very crucial position at that very moment a few friends of ADVO, France came forward to help with a proposal of sponsoring the children. From the very beginning, there is the provision of both boys & girls in this hostel.
As it is found in recent times that the most abused and vulnerable children are girls so to protect the girl child Trust was decided henceforth Mira Usha Children Hostel will be the shelter only for the vulnerable girl child only. During the last 4/5 years, this hostel is only for the girl child. To maintain this hostel there are 2 lady hostel superintendents, 2 lady cooks, 2 other workers is associated with and monitoring the children. Many of the earlier students of the hostel are established today.
Trust is also resolved that along with the formal education every child should have to adapt other non-formal education also like vocational education, performing art like yoga, meditation, dance-drama, recitation, basic computer education & English education also. Periodic Health Check-Up of the children is compulsory here. Children are also participating in the Annual Sports and Annual Function of the school regularly. 3 private tutors are engaged to help them with their regular study. Separate files are maintained for every child containing the information of their parental detail including every information of the child.
Every day children are provided with a nutritious balanced diet 2 major meals (Veg & non-veg both) + breakfast + Tiffin every day. Guardians of the children may meet their children only every Sunday from 3.30 – 5.30 p.m. Children of this hostel are also motivated to celebrate the different cultural functions of Bengal like – Barsha Baran, Raksha Bandhan, Tree Plantation, Holi, observing the Birth day of great sons of India, Sarodia Agomoni, Bijoya etc. Every year children are provided new clothes before Durga Puja and winter clothes in winter.
Non-formal Educational Activities:
State Open School (Rabindra Mukta Vidyalaya)
Ushagram Main Library (Aurobindo-Rabindra Gramin Pathagar)
Bio-diversity Resource Centre
Adult Literacy Programme (Education for all) running in 10 villages
Aurobindo Rabindra Gramin Pathagar :
Ushagram Trust, striving for an all-round rural uplift, set up the library Ushagram Aurobindo Rabindra Gramain Pathagar with the dream to develop it into an Education Centre from where the light of education and culture may e disseminated in the remote corners of the villages that are the direct fields of activities of the Ushagram Trust. Two years after the inception of the library a project was projected to AID, the USA who was generous to come forward with financial aid for its implementation. Soon thereafter activities of the library began in full swing -
The mobile unit of the library has been set in motion. Books and magazines, chiefly of juvenile interest, are being sent to at least eight village study centres namely : (a) Bhaduri Sanghasree, (b) Barasat Trinami Sangha, (c) Mahishdanga Nabin Sangha, (d) Bhaduri Balaka Sangha, (e) Bhaduri Kahudiram Sangha, (f) Chandandaha Aguntak Sangha, (g) Anjanagarh Jatiya Sangha. Readers are mainly school-going children. The ultimate aim is to convert such a study Centre into a permanent rural library in every village much to the benefit of the womenfolk and neo-literate also
With a view to creating public awareness youngsters had played some wayside dramas highlighting healthcare, nutrition, value-based incidents and against prevalent superstitions. The programmes have gained popularity. But students' terminal examinations and hot days are creating problems. Some other measures will have to be evolved for the continuance of the programme.
Number of subscribers and of daily readers are increasing gradually the former already exceeds two hundred. Book bank wing of the library, meant for the poor and meritorious students of the villagers, has started functioning. The number of members of this wing also is expected to increase in due course of time.
Rapt attention is being paid to developing an achieved wing of the library, rich in various ways and at least suitable for elementary research works.
It is really encouraging to note that at least six cultural programmes have been successfully arranged at six villages by children and youngsters, on their own. These were attended by a huge number of villagers. Some photographs of the cultural programme are attached herewith.
Balwadi lady teachers of some villages are having their training in songs. They are expected to train the youngsters and will be in search of talent in rural areas. A printed edition of the wall magazine USHAR ALO had been brought out with the active co-operation of the library. The library will motivate the Trusts to move in promoting secondary education, training on the use of herbal plants income-generating programmes etc. The idea of internet connection for the spread of standard education does not seem to be feasible at this stage. However, arrangements are on for the up-to-date information to common people. The library is still in its early infancy. Obviously, it needs time to settle.
A statement of the account of the grant received (up-to-date) from AID has been furnished. A considerable amount of money received as a grant remains unspent in view of the fact that maximum effort so long was exerted in purchasing suitable books and magazines for the library, preparing registers and cards etc. preserving them in the right way, mobilizing force for the study centres. A sum of money is kept aside to be spent towards the remuneration of a suitably trained librarian. Some necessary furniture also will be purchased very soon. Let us hope that the library will proceed at a faster speed and progress with better performance.